BackBeat's Biography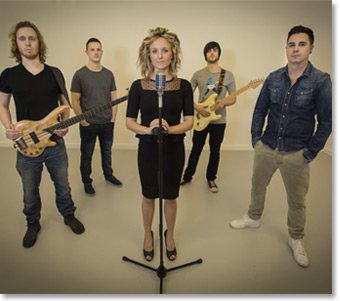 We're BackBeat, a group of professional musicians from Leeds. Each of us is a graduate of Leeds College of Music and we have been performing together for the last 4 years - and we love it!
Our repertoire is pretty impressive and covers a huge range of genres and styles, including: 60's 'Rock'n'Roll', 70's Funk and Motown, 80's Disco and Ballads through to modern day Rock and Pop chart hits. Our performance skills match the really high quality music we provide and we guarantee a full dance floor all night long.
We provide the professionalism you should expect from a function band; highly reliable, smartly dressed and good time keeping/being on-time (if not early), with the ability to cater for every audience. Whether reminiscing to our 60's classics, or partying to the current chart smash-hits, we provide the perfect musical frame to any picture-perfect occasion. From Stevie Wonder to The Killers, Aretha Franklin to Girls Aloud, Michael Jackson to Kings Of Leon, BackBeat really do provide something for everyone.
Venues we've recently performed at include Edgebaston Cricket Ground, St James Park, Birmingham Botanical Gardens, Newburgh Priory, Goldsbrough Hall and Swinton Park, among many others.
Band Member Bios
Alexandra - Lead vocals
I have always been musically orientated and have sang from a young age. I graduated in Performance from Northumbria University where I was able to further my experience as a singer. My highlights have included performing at the award winning Sage in Gateshead. Since leaving University, I have continued down various musical paths; such as performing live music abroad and at some of the most prestigious live venues in and around London. My career now focuses on writing and recording new material and working in collaboration with various signed Artists and Producers across an eclectic range of genres. I have a powerful vocal tone and coupling this with my charismaic performance style, I think I make a superb front woman for BackBeat, if I do say so myself ;)

Andy - Lead Guitar
I hold a Degree (BA Hons) in Popular Music and have over 10 years experience in performing rock and pop music under my belt. I teach electric and classical guitar to pupils of all ages and abilities in York and Leeds and I'm employed by the School of Rock and Pop, a nationwide company specialising in educating school aged pupils in playing and writing popular music as an ensemble. Backbeat is not the only band play in - I also play guitar in a Stone Roses tribute band. I've played at many prestigious venues, including The Cockpit, The Assembly Rooms, Fruit, The Leadmill and The Waterfront to name a few. I also play classical guitar to audiences nationwide.

Chris - Keyboards/Audio Engineer/Backing Vocals
I graduated with a BA(Hons) Music Production degree from Leeds College of Music and I'm now the Course Leader for Music at Doncaster College and lecturer on the Music Practice / Music Technology HNDs. I also work amongst the programming team at Leeds based Radio Station, 'Radio Aire' and produces the JK & Joel Reloaded Show. I also find the time to run a successful recording and production company. Having trained as a pianist from the age of 7, I have grown up playing in bands and ensembles. The things I enjoy the most in my career is combining my enthusiasm for music with my knowledge of technology; utilizing them fully whils playing keys with BackBeat.

Phil - Bass Guitar/Backing Vocals
Although I'm a bass player for BackBeat, my main instrument is the six string guitar. Specialising in classical guitar, I am not only an avid performer at weddings, restaurants and functions, but I also find the time to teach classical guitar to young pupils in and around Yorkshire. I also teach guitar and bass privately in the Leeds area. I am too, a graduate of the Leeds College of Music, and do session work; my talent and professionalism reflected in the studio work I has been involved with since graduating.

Tom - Drums/Backing Vocals
Hello I'm Tom - I've been drumming for over a decade, my talent underlined by the First I received in my performance module during my Degree (BA Hons) at the Leeds College of Music. As well as playing for BackBeat, I also perform with Neeta Sarl, a singer songwriter who's work has been credited by the BBC Asian network. Furthermore, I'm a pit drummer for local theatre ensembles in the Blackpool area and when I'm not performing, I teaches Drums and Percussion privately around Lancashire, and to top it off, I'm a secondary school music teacher.